Stacking the odds against cancer occurrence & recurrence
November 16, 2011
Conference
Stacking the odds against cancer occurrence & recurrence
Wednesday November 16th
Venue
The Melting Pot,
5 Rose Street,
Edinburgh,
Scotland
Conference Report
Thank you to all the invited speakers and active participants who came to the Scottish Cancer Foundation supported SCPN conference in November. The discussion was every bit as informative and thought provoking as the formal presentations. The evidence on cancer mortality and survivorship in Scotland, the increasing evidence on the role of lifestyle in primary prevention and also in quality of life and other outcomes in patients who have been treated for cancer make a strong case for health professionals to engage with the practical promotion of lifestyle change. Clearly, we all have a lot to learn from the journey of patients, the current absence of preventative guidance and facilitation for patients (whether in primary or secondary care) and the opportunities to work together for change. Insights as to how prevention activities can be developed within the breast and bowel cancer screening programmes were well described. Dr Aileen Keel (Chairperson, Scottish Cancer Taskforce) highlighted many government actions for lifestyle change and potential opportunities within the health promoting health service. We look to health professionals to lead the way in health matters but how to develop action in a time constrained health service needs strong leadership with SMART outputs.
Here are some comments from participants
"Security of evidence that diet/exercise interventions can influence risk of common cancer"
"It is important to have a united front in persuading public and policy makers to encourage lifestyle change"
" Need to involve patients and interested lay people in cancer prevention campaigns"
"the challenge of engaging health professionals"
"the need for key messages for health professionals"
Apologies to readers who were unable to get a place at the conference. Through the network the 50 places were allocated within days. We hope to run another meeting next November for a larger audience … check with the website from details http://www.cancerpreventionscotland.co.uk/
Note all presentations from the November meeting will be available from through the Links section of the website from mid January.
Programme
SCPNNov2011conference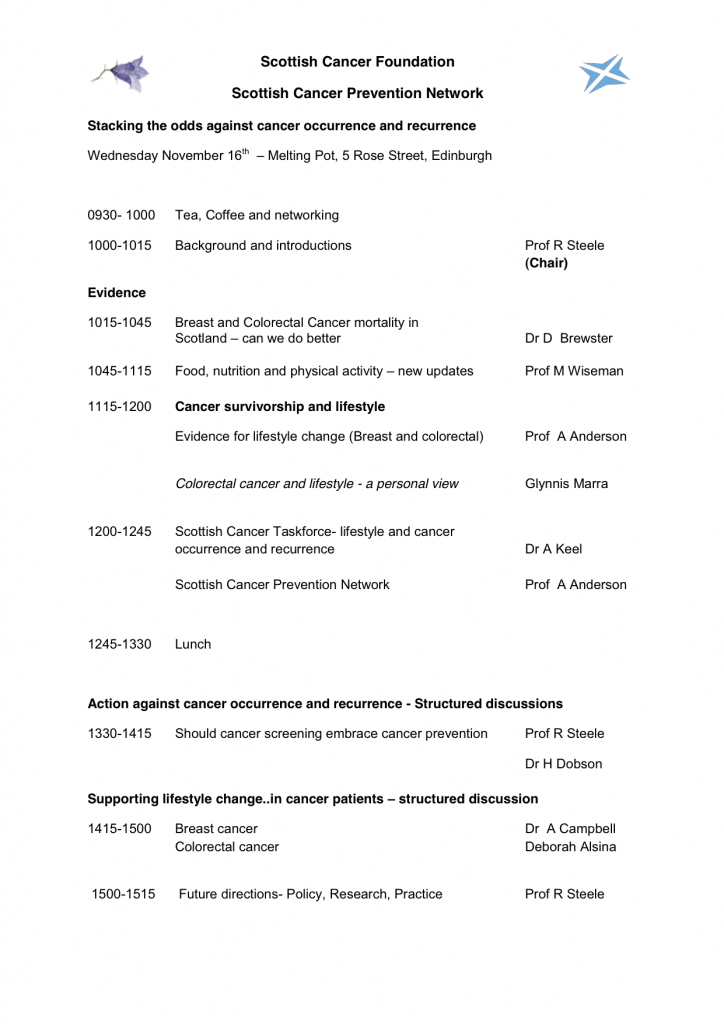 Additional Information
If you wish to reserve a place you must contact Professor Annie Anderson on a.s.anderson@dundee.ac.uk as soon as possible with the following details as places are limited:
Name
Address
Email
Contact telephone number
Special dietary requirements
Any other requirements
Please email regarding queries