CUP report on Oesophageal Cancer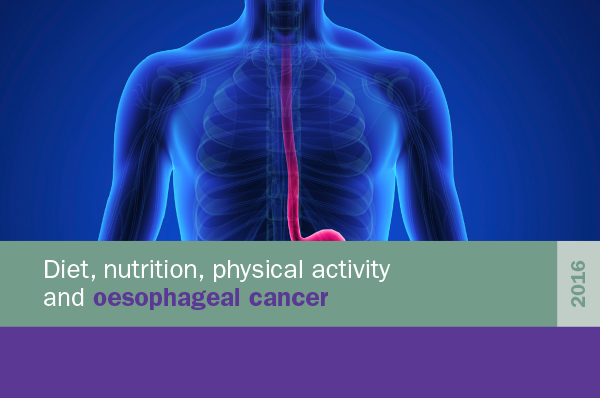 The latest WCRF CUP report on the association between diet, nutrition, physical activity and oesophageal cancer was released in July 2016 (1). Oesophageal cancer is the eighth most common cancer worldwide and the sixth most common cause of death from cancer (2).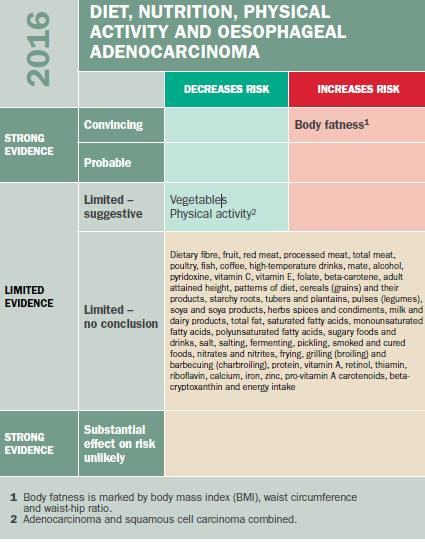 Oesophageal cancer is twice as prevalent in men. Oesophageal cancer is typically detected at a more advanced stage which contributes to poor survival rates. There are two types of oesophageal cancer – squamous cell carcinoma which accounts for 88% of cases and adenocarcinomas which is becoming much more common in affluent countries. Established causes of oesophageal cancer include smoking, infection with the human papilloma virus (HPV), and gastro-oesophageal reflux disease, a common condition in which stomach acid damages the lining of the lower part of the oesophagus.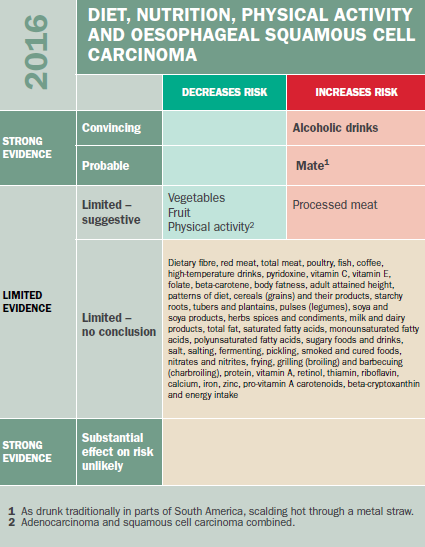 This report concluded that there is strong evidence that body fatness increases the risk of adenocarcinomas and that alcohol and mate consumption increases the risk of squamous cell carcinoma. There is limited evidence that physical activity and a diet high in fruit and vegetables may reduce the risk of both types of oesophageal cancer.
---
References
World Cancer Research Fund International/American Institute for Cancer Research. Continuous Update Project Report: Diet, Nutrition, Physical Activity and Oesophageal Cancer. 2016. Available at: wcrf.org/oesophageal-cancer-2016.
Ferlay J, Soerjomataram I, Ervik M, et al. GLOBOCAN 2012 v1.0, Cancer Incidence and Mortality
Worldwide: IARC Cancer Base No. 11. 2015
---
This article was originally published in The SCPN Newsletter Volume 7, Issue 4. Read the digital newsletter below using Issuu, or feel free to download the PDF.
View the PDF