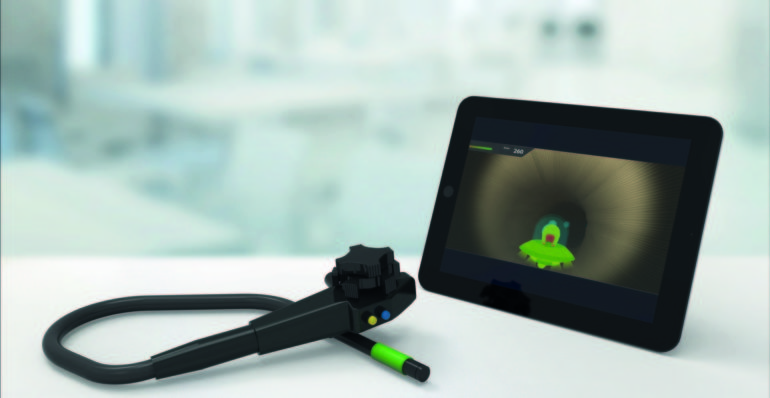 We are delighted to announce that the 2016 Scottish Cancer Prevention Network Art & Design Prize for Creative Communication has been awarded to David Brooks, for his innovative product 'Virtu Scope.'
David, who graduated this year from the MEng Product Design Engineering course at Glasgow School of Art, has created a product designed to help trainee doctors and surgeons develop their basic to medium level skills controlling an endoscope, using portable and relatively inexpensive technology.
Colorectal cancer, also known as bowel cancer, is the fourth most common cancer in the UK, with 42,222 cases diagnosed across the UK in 2013. Whilst colorectal cancer is one of the most preventable forms of cancer, bowel screening, and in turn colonoscopy, are absolutely vital in early detection.
"Medical endoscopes are used regularly to perform examinations looking for signs of bowel cancer," said Prof Bob Steele, SCPN Co-Director, Director of the Scottish Colorectal Cancer Screening Programme and Independent Chair of the UK National Screening Committee. "We were very impressed with David's innovative approach to improving training in the use of endoscopes."
"I was fortunate to be able to work with both consultants and trainee surgeons in the development of VirtuScope and they have given really useful feedback," said David. "My aim was to develop a means to help trainees move more quickly to high levels of competence in using the endoscope and thus be better equipped to recognise cancerous anomalies and take samples for histological testing."
David is now looking for financial backing to take VirtuScope into medical trials to measure the effectiveness of the device in endoscopy training and identify potential improvements. We wish him all the success in the future.