Chicken & Chickpea Tagine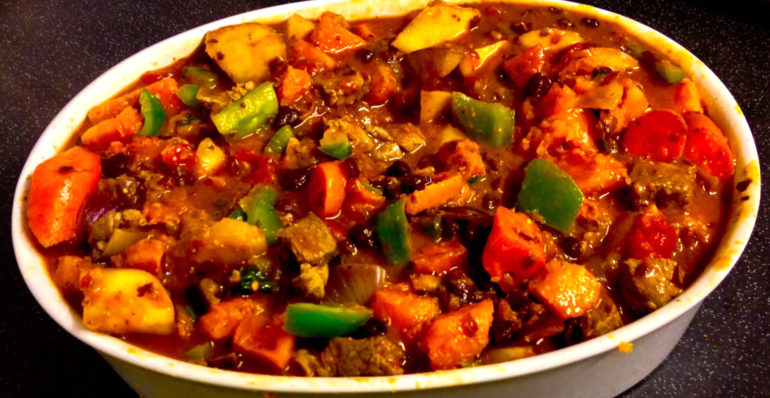 Recipe for chicken and chickpea tagine created for #HealthyShelfie 2016.
Ingredients
4 Chicken Breasts, skin removed and choppeed into large chunks
1 tsp Cinnamon
1 tsp Paprika
1 tsp Chilli
2 Lemons, juiced
1 tbsp Olive Oil
1 Red Onion, peeled and thinly sliced
4-5 Spring Onions, roughly chopped
1 Stick of Celery, roughly chopped
2 Carrots, chopped
4 Peppers, de-seeded and cut into quiarters
400g Tin Chickpeas, drained
600ml Low Sodium Chicken Stock
Whole-grain cous cous to serve
Method
Marinade the chicken for at least 1 hour or overnight in cinnamon, paprika, chilli flakes and the juice of one lemon.
Preheat the oven to 180°C. Heat oil in large pan and gently fry red onion, spring onion and celery together, until softened.
Add the marinated chicken, and stir until chicken is golden brown.
Add carrots, peppers and chickpeas, cover with low sodium stock and juice from one lemon.
Place in a tagine or any other oven proof dish with a lid, and put it in the oven for about 1hour 30 minutes – 2 hours, until the carrots and chicken are cooked through.
Serve with wholegrain couscous!

Find Similar Recipes:
Bake

Find Recipes With The Same Ingredients:
Carrot
|
Celery
|
Chicken
|
Chickpea
|
Chilli
|
Cinnamon
|
Cous Cous
|
Lemon
|
Paprika
|
Pepper
|
Red Onion
|
Spring Onion