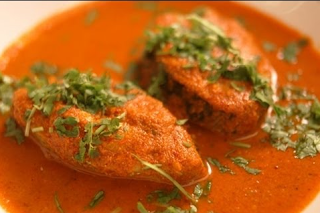 28
Sep 17
A flavoursome, delicious, fish curry. Perfectly spiced for that delicious 'just one more mouthful' effect. Get more recipes like this from satyenkulkarni.blogspot.com.
Ingredients
500g king fish (surmai)
3-4 cups of coconut flakes (fresh where possible)
2 onions chopped
4-5 dried chilies
1 tomato chopped
1 tsp. roast cumin seeds (ground)
2 tsp. roast coriander seeds (ground)
A pinch of turmeric powder
1 tbsp. tamarind pulp
6-7 black peppercorns
Method
Mix the corriander, cumin and turmeric and cover fish in spice mix.
Grind onion, coconut and peppercorns in to a coarse paste.
Add tomato, coconut paste and 2 cups of water to pan. Cook for a minute on a high flame (bring to boil).
Add fish and tamarind pulp. Let simmer for 5-6 minutes.
Serve with steamed rice.