Traditional Greek Bean Soup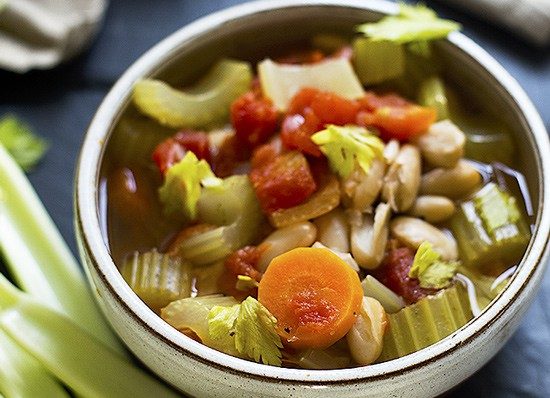 14
Jan 20
An easy and healthy vegetarian soup to warm your heart!
Ingredients
1

 can of chopped tomatoes (400g)

1

 brown onion, finely chopped

4

 celery sticks, chopped roughly

4

 carrots, chopped roughly

2

 bay leaves

1

low-salt vegetable stock cube

1 tsp

 ground black pepper

1

 can of cannellini beans in water (400g), drained

4 Tbsp

 extra virgin olive oil
Method
In a big pot, bring to boil 1.5 litres of water.
Add the tomatoes, celery, carrots, bay leaves and stock and simmer for 25-30 min till the veggies have softened.
Towards the last 5 min of your cooking, add the cannellini beans, pepper and finally the olive oil.
Serve while hot and keeps in the fridge up to 48 hrs.
* Instead of cannellini beans, you can use butter beans which are the beans of choice for the Greeks.

Find Similar Recipes:
Soup

Find Recipes With The Same Ingredients:
cannellini beans
|
Carrot
|
Celery
|
Onion
|
tomatoes