Broccomole with Seeded Baked Tortilla Chips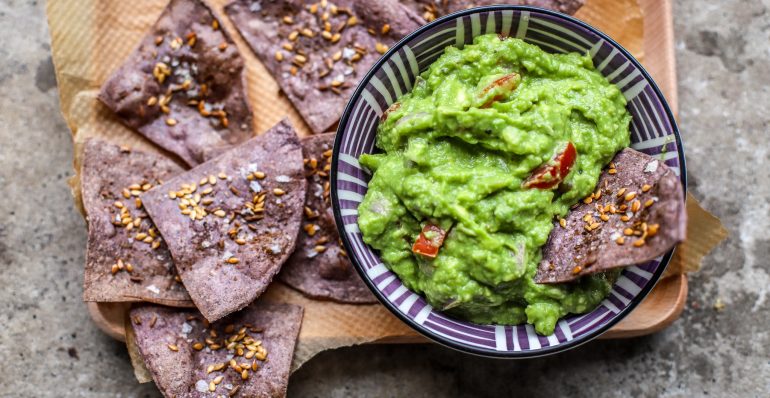 Kellie Anderson, MSc https://kelliesfoodtoglow.com 
Give your guacamole even more goodness with the addition of broccoli. Bake up some crispy seeded tortilla chips to go with it for
a fabulously fibre-rich treat.
More recipes like this – including the
seeded baked tortilla chips – on Kellie's global healthy food blog, https:// kelliesfoodtoglow.com
• 1 sm head broccoli (including the tender, sweet stems), chopped and steamed for 10 minutes
• 1 lg ripe avocado (see my website for how to choose and store avocados), flesh scooped from skin
• ½ tsp ground cumin
• Juice of 1 lime (more to taste)
• ½ sm red onion, chopped
• 1 garlic clove, minced
• 2 medium tomatoes, chopped (optional)
• Pinch of chilli or chopped red chilli (optional)
• Handful of coriander, chopped (optional)
Mash the broccoli in a mixing bowl with a fork until it is broken down. Now pop in the avocado, cumin, lime juice and chilli powder. Mix well before stirring in the chunkier ingredients: red onion, tomato, fresh chilli and coriander. Cover the dip and leave to allow the flavours to deepen at room temperature before serving with homemade tortilla chips or chopped "dipping" vegetables. We like it alongside shakshuka (eggs cooked in a spicy chunky tomato sauce) and huevos rancheros, too.