Building momentum: lessons on implementing a robust sugar sweetened beverage tax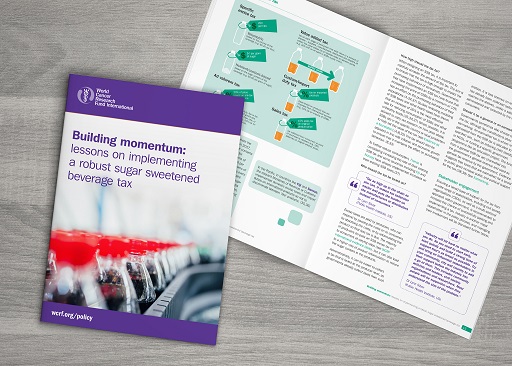 By Bryony Sinclair, World Cancer Research Fund International
Sugar sweetened beverage (SSB) taxes get a lot of media coverage. This is in part because they are building momentum globally – to date, 45 jurisdictions around the world have implemented an SSB tax and 42% of these have been put in place since 1 January 2017 – and also because they face strong opposition. Governments seeking to implement an SSB tax need to be ready to defend the design of their tax against this opposition.
World Cancer Research Fund (WCRF) International's report Building momentum: lessons on implementing a robust sugar sweetened beverage tax (www.wcrf.org/buildingmomentum)
provides advice to policymakers on how to design and implement a robust SSB tax and how to address challenges caused by lack of political and public will, and industry interference. The report is based on research and interviews conducted with policymakers, advocates and academics around the world who have been involved with implementing an SSB tax.
The report outlines seven key elements: take local context into consideration; use evidence as a foundation; set clear policy objectives; integrate a plan for monitoring and evaluation; carefully design the tax itself; engage stakeholders to ensure a broad base of support; and frame the tax in a way that will resonate with the public and politicians.
SSB taxes will continue to be proposed and implemented as part of a comprehensive approach to tackle unhealthy diets, overweight, obesity and diet-related non-communicable diseases. Sharing lessons learned from previous experiences will help increase the chances for success.
The Building Momentum series of reports will cover other nutrition policies, including front-of-pack nutrition labels and restricting marketing of unhealthy food and drink to children.
* Sign up to WCRF International policy updates here www.wcrf.org/int/policy/policy-updates-straight-your-inbox and our WCRF International e-news here: www.wcrf.org/int/newsletter