Cross Party Group on Improving Scotland's Health: 2021 and Beyond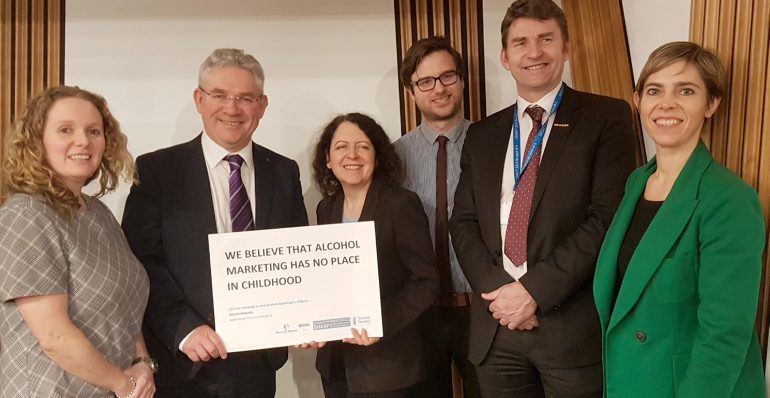 Alison Douglas, Chief Executive Alcohol Focus Scotland
Interested in reducing the impact of unhealthy commodities on cancer a d health? Then you may be interested in the Scottish Parliament's  Cross Party Group (CPG) on Improving Scotland's Health: 2021 and Beyond. As the name suggests, the  Group brings together Members of the Scottish Parliament with a focus on improving the health of the next generation by preventing and reducing non- communicable diseases, particularly those caused by tobacco,  alcohol and unhealthy foods. The CPG provides an opportunity to come together across these different topics, learn from each other's successes,  and coordinate thinking and approaches to pave the way to a healthier Scotland.
The Group meets three times a year and includes representatives from more than 80 organisations and  areas of interest, from children and young people, academia, health (including cancer), alcohol  licensing and criminal justice. Expert speakers are invited to present on a theme with time for discussion and questions. For a flavour of our last meeting on 'Marketing Unmasked: Dispelling the Myths and Taking a Stand' read our summary. Following that meeting a motion was laid in Parliament on  protecting children from alcohol marketing. This received cross- party support and will now be  formally debated, helping to raise the profile of this issue.
The CPG is co-convened by Kenneth Gibson MSP (SNP), David Stewart MSP (Labour) and Brian Whittle  MSP (Conservative), with a further 6 MSP members:
• Miles Briggs MSP (Conservative)
• Alex Cole-Hamilton MSP (Lib Dem)
• Alison Johnstone MSP (Green)
• Jenny Marra MSP (Labour)
• Willie Rennie MSP (Lib Dem)
• Anas Sarwar MSP (Labour)
• Monica Lennon MSP (Labour) also often attends.
Alcohol Focus Scotland and ASH Scotland provide the joint secretariat of the CPG.
The next CPG takes place on the 12th of June. Find out more on the Scottish Parliament website.  Summaries of meetings are available for 2016-2017 and 2017-2018. If you are interested in attending the Group, please contact Valerie Smith at ASH Scotland.