The Eatwell Guide Has Been Updated: Can you spot the difference?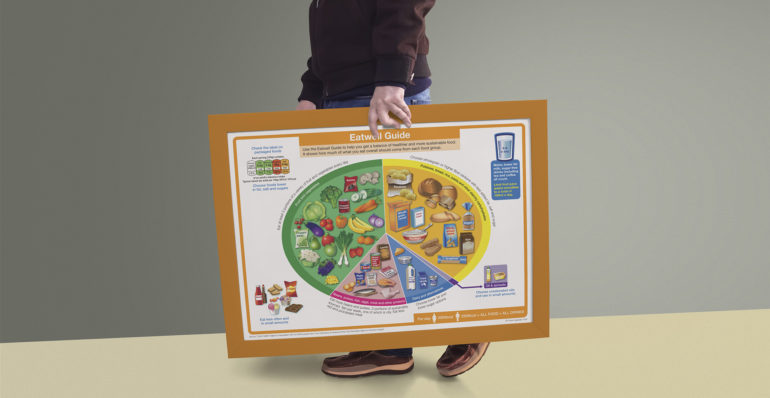 The new Eatwell Guide shows the updated proportions of the food groups that are intended to help us meet official advice and nutrient requirements reflecting updated dietary recommendations in the UK. These include those on sugar, fibre and starchy carbohydrates from the Scientific Advisory Committee on Nutrition (SACN) report on Carbohydrates and Health in 2015.
Spot the differences?
Clear guidance on food choices is now provided

Less red and processed meat
Choose wholegrain or higher fibre versions of starchy foods
Eat more beans and pulses

Food groups resized to reflect current advice on what constitutes a healthy diet
Purple segment now only contains oils and spreads
Separation of unsaturated oils and lower fat spread from foods that are high in saturated fat, salt and sugar which are not essential to a healthy diet
A clear message on drinks which reinforces the message that water, low fat milk, sugar free drinks, tea and coffee are the best choices

Fruit juices and smoothies only count as one portion of fruit a day and have been removed from the fruit and vegetable segment.

Inclusion of typical energy requirements for men and women – all food and drinks contribute to this total energy expenditure
Inclusion of front of pack nutrition labelling responding to a consumer desire for guidance on choosing foods lower in fat, salt, and sugars
---
This article was originally published in the SCPN Newsletter Volume 7, Issue 2. Read the full issue here, or read the digital edition below (great full screen on mobiles).