Living well with, and beyond, cancer: WCRF's recommendation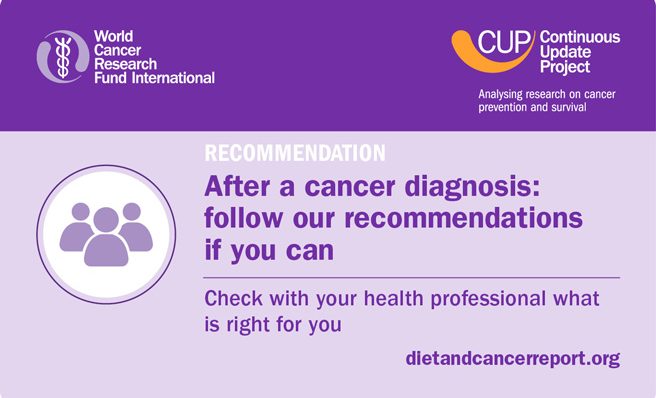 By Dr Giota Mitrou, Director of Research Funding and Science External Relations, World Cancer Research
Fund International
In recent decades, progress in the early detection and treatment of cancer has led to a dramatic increase in the number of cancer survivors, defined as all people who have been diagnosed with cancer, including before, during and after treatment. Survival rates vary for different cancers but are highest for colorectal (bowel), prostate, endometrial (womb) and breast cancers. Research focused on aspects of cancer survivorship has grown in parallel to the prevalence of cancer survivors, including an entire chapter dedicated to cancer survivors in  World Cancer Research Fund's (WCRF) new cancer prevention report, Diet, Nutrition, Physical Activity and Cancer: a Global Perspective.
This chapter provides persuasive evidence in breast cancer survivors that nutritional factors and physical activity reliably predict important
outcomes for breast cancer. Although there has been this dramatic increase in research into the impact of diet, nutrition and physical activity on outcomes after a diagnosis of cancer –including prognosis and quality of life during and after treatment – the current evidence is not  sufficiently strong to support specific recommendations for cancer survivors beyond advice to follow WCRF's recommendations for cancer
prevention. The new report by WCRF also identified gaps in our knowledge and future research directions for cancer survivors, in particular  in terms of the quality of the studies to address each phase of survival and across diverse cancer types and subtypes.
Read more about WCRF's evidence on cancer survivors here.
After a cancer diagnosis follow our recommendations, if you can; check with your health professional what is right for you.