Making our food environment work for us – Scottish hospitals have begun their journey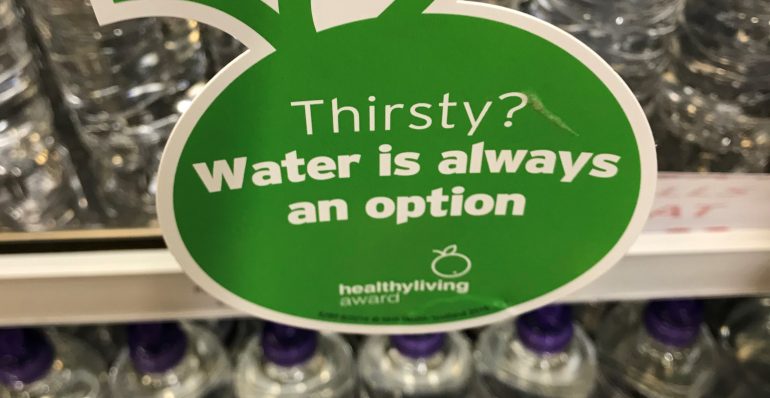 By Deborah Shipton, NHS Health Scotland
As a species our survival relied on us wanting to eat and prioritising high energy food. Is it any wonder that we respond to our new environment of (calorie) abundance by eating the calories provided in our environment and prioritising energy dense foods?
We need a food environment that recognises our biology and seeks to make the healthy choice the easy choice. Changing the food environment in the  public sector is a good place to start – our leisure centres, care facilities, schools and hospitals. NHS Scotland began its journey of making our food environment work for us with the introduction of the Healthy Living Award and the Healthcare Retail Standard (http://www.gov.scot/resource/0048/00484485.pdf).
Both specified that at least half of foods and drink on offer should comply with a nutritional criteria – in other words more healthy food and drink should be available. In addition, the HRS only allows the promotion of the food and drink that we should be eating more of. Although the HRS criteria were ambitious, all outlets did achieve compliance. But it  wasn't easy. Changes were required not only by the shop but also in the supply chain – initially there just weren't enough healthy products  available to meet the criteria.
What happens when we change the food environment? It turns out we respond to our environment – as the amount of unhealthy food and drink in the shop was reduced, customers bought less of it and more of the healthy stuff.
So the journey has started. How can we ensure that our food environments in other settings join in? Generally we still don't expect our food environment to  work for us and consequently we don't make demands that it should. Until that time, we can learn a lot from the success of the HRS – be bold, support change and ensure it is maintained.
The full evaluation report for the HRS will be published on the NHS Health Scotland Website in the Autumn. For more information contact Deborah Shipton (Deborah.shipton@nhs.net).