Movement For Movement 2018 evidence update launch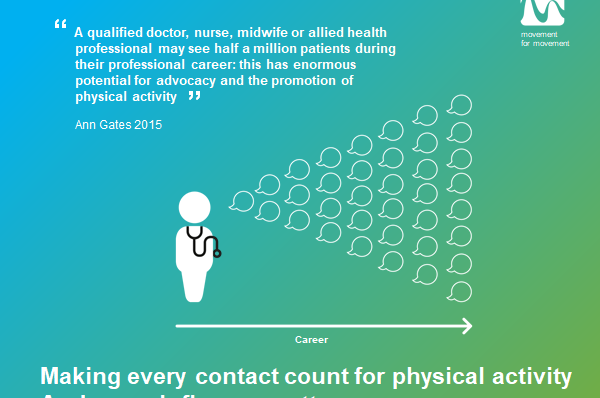 Ann Gates, Founder and CEO of Exercise Works!
Working with universities across the UK, Exercise Works! have updated the #MovementforMovement resources to include recent evidence on physical activity strategies and clinical practice for non-communicable diseases, pregnancy and surgery. These resources are free to providers of undergraduate medical and healthcare education to support capacity building in the healthcare workforce. Ann Gates said: "The 2018 evidence update of the #MovementForMovement resources is unique. The resources have been updated and reviewed by peers and health care students. Tomorrow's health and social care professionals are the "vanguards" of future knowledge and skills: these resources will enable universities and students to make every contact count for physical activity and health".
Among the student reviewers were two from the Council's #150Leaders student leadership programme. David Williams, physiotherapy student at The University of Nottingham, said:
"#MovementForMovement is an exciting and informative resource that brings current knowledge of exercise and physical activity to help reduce the burden of non-communicable diseases. I hope this important document fosters a community of practice in health and medical schools worldwide. Students get involved!"
Sarah Bradder, therapeutic radiography student at Sheffield Hallam University:
"I enjoyed reviewing the packages. It was great to know my suggestions were valued and have helped to make them more engaging and accessible, plus I got to learn something new too!"
The work has been recognised as a UK best practice exemplar by the 2018 WHO Europe Physical Activity Fact Sheets (1) and the 2018 WHO Europe Physical Activity in the Health Sector report (2) and we are now keen to increase uptake across the UK.
For queries about the resources contact: annbgates@googlemail.com.
1. WHO Europe Physical activity country factsheets 2018. Accessed 11 November 2018 http://www.euro.who.int/en/health-topics/disease prevention/physical-activity/data-and-statistics/physical-activity-factsheets/ physical-activity-country-fact-sheets/united-kingdom-of-great-britain-and-northern-ireland
2. WHO Europe Physical Activity in the Health Sector Report 2018 Accessed 11 November 2018 http://www.euro.who.int/__data/assets/pdf_file/0008/382337/fs-health-eng.pdf?ua=1