Physically Active Picnics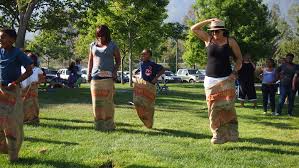 What is the first thing you think about when you hear the word "picnic"? Sandwiches, strawberries….a blanket in the back garden? Picnics
are often centred on relaxing with friends and family and enjoying nice food, but picnics also provide a prime opportunity to enjoy the greenspace around us, whether it be in our own back gardens or out in the park. The SCPN team are busy planning their annual family picnic and voting on the agenda…. What do you think ?
Rounders… pack the bat and ball and enjoy a fun game of rounders. A great game to get the whole family involved (and known to get a little competitive…).
Frisbee ….easy to pack in the picnic bag
Egg and spoon race…potted sports games are always fun. Pack extra boiled eggs for the picnic and have an egg and spoon race, or pack some string (or old ties now that no one wears the!) for a three-legged race (or better yet attempt both together!).
Circuits in the park… Complete a length of the monkey bars, see how many time you can race up and down the slide in a minute or time who is the fastest to the top of the climbing frame!
Highland games… for the more organised why not plan a mini highland games event. Have the garden set up and ready for a tug o' war, welly wanging or the hammer throw
There are lots of fun ways to enjoy a physically active picnic this summer, just remember to pack the sunscreen (and the umbrella/sun shade) and enjoy the best of the Scottish summer!