News from the Scottish Cancer Foundation
Professor Sir Pat Forrest Obituary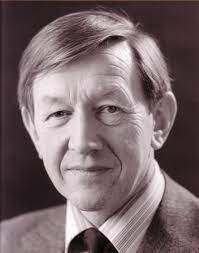 Professor Sir Pat Forrest, who founded the Scottish Cancer Foundation along with Professor John Evans, died at the age of 98 on August 7, 2021.   He was truly one of the giants of 20th century surgery, and his contributions to the management of breast cancer were unparalleled.  Through his research and the subsequent "Forrest Report" he was responsible for the introduction of breast cancer screening to the NHS in 1988.  Perhaps even more importantly, however, he recognised the benefit to patients from site-specific specialization in cancer treatment.  At the outset of his career, breast cancer was firmly in the domain of the general surgeon; by the end it was a disease treated only by specialists, and in recent years this trend has extended to many other cancer types to the great benefit of patients.
Brought up in Dundee as a son of the Manse, he graduated in medicine from St Andrews University where he won the Gold Medal in 1945.  His first Chair was at the University of Wales Medical School in Cardiff, and in 1971 he was appointed as the Regius Professor of Clinical Surgery at the University of Edinburgh.  Here he focused on breast cancer treatment, establishing a specialist breast unit at the Longmore Hospital in Newington which subsequently re-located to the Western General Hospital.
In 1955 he married Margaret Hall, who died in childbirth in 1961, and in 1964 he married Margaret Steward, an Australian dietitian whom he met on a visit to the metabolic unit in Cleveland, Ohio.  He is survived by Margaret and his three children Susan, David and Anne.
Although a great champion of screening for breast cancer and dedicated to the treatment of the disease, he was always very clear that prevention was the highest aim.  His vision for the Scottish Cancer Foundation was for it to address the high incidence and poor outcomes of cancer in the Scottish population, and the charity remains true to that vision, focusing as it does on cancer prevention.
 Robert J C Steele