Satellite meeting for the European Congress on Obesity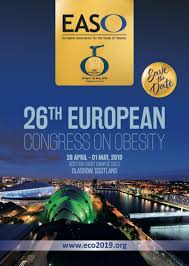 Saturday the 27th of April saw The NIHR Cancer and Nutrition Infrastructure Collaboration https://cancerandnutrition.nihr.ac.uk/ organise a satellite meeting to the European Congress on Obesity to explore research on obesity and cancer occurrence and recurrence with a focus on intervention trials. The meeting was hosted by The Centre for Research into Cancer Prevention and Screening (CRIPS), supported by the World Cancer Research Fund, Association for the Study of Obesity Scotland Network and the Scottish Cancer Prevention Network, chaired by Prof Bob Steele and Prof Elio Riboli and aided by Professor Andrew Renehan.
The aim of the meeting was to discuss the three aspects of lifestyle that need to be considered: diet, physical activity and weight management. Each of these aspects can be explored within human weight loss trials – at least in theory.
The following points were considered:
• Can these three lifestyle behaviours be explored in practice?
• Can people living normal everyday lives really change behaviour to meet study protocols?
• Can we learn from diabetes prevention trials?
• How important is trial level evidence for the public, patients and clinicians?
• What are the convincing end points for cancer occurrence and reoccurrence and do they take decades and billions of pounds to discover?
Representatives of the Cancer and Nutrition NIHR infrastructure collaboration gave presentations on key issues to consider. The themes covered experimental work, patient and public views, prevention, survivorship and tools for measuring the impact of the research being undertaken. The talks centered on nutrition in a cancer context and focused on cancer prevention, public health screening (epidemiology), and cancer survivorship. They also included two components combining nutrition with physical activity. The presentations gave a snapshot of where we are now and the issues that need to be considered to move forward. Delegates were invited to share their thoughts and ideas on answering these important questions during the discussion sections.
The morning sessions included:
• Prof Richard Martin who provided a clear account of how evidence from Mendelian Randomisation compliments and expands understanding of these issues.
• Prof Annie Anderson focussed on what is known about intentional weight loss and cancer risk reduction. However, without trial data the current indicative, observational evidence associated with cancer risk reduction and decreased body weight is not enough to influence current practice guidelines.
• Prof Falko Sniehotta who reflected on weight loss in intervention trials drawing on his work in the DIRECT trial for the reversal of diabetes. One of his key points was understanding participant perspectives for motivation, satisfaction with outcomes, confidence, acceptability and support for weight maintenance.
• Prof Shaun Treweek provided an account of key issues in the design and implementation of high quality trials.
The afternoon session focussed on weight loss in people diagnosed with cancer:
• Prof Jennifer Ligibel from the Dana Farber Institute presented an overview of her weight loss trial in stage 2/3 HER 2 negative breast cancer in women with BMI >27 kg/m2 (BWEL).
• Prof John Saxton provided an excellent review of pragmatic diet and activity interventions in cancer survivors, drawing on published literature but also considerable experience and guidance for future work.
• Dr Amanda Cross covered relevant outcomes – a superb review covering biomarkers in quality of life.
• Dr Chloe Grimmet encouraged us to consider some of the more challenging issues that need to be addressed in testing the effectiveness of achievable interventions.
Presentation slides from the Satellite Meeting are available to view here:
https://cancerandnutrition.nihr.ac.uk/events/