Scottish cancer charities get into action on obesity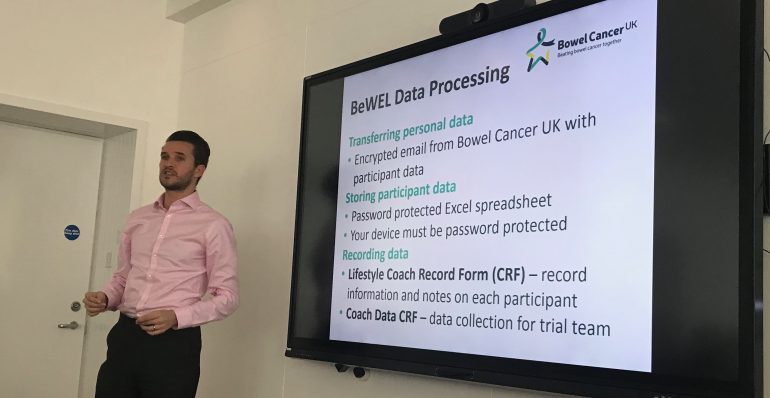 Note from the Editor: Too bad the obesity plan isn't investing more money in obesity management for people at risk of
obesity related cancers – but it is great to see the third sector putting action into place.
ActWELL study 
A big hurrah for breast screening clinics in Dundee, Aberdeen, Edinburgh and Glasgow who have helped us recruit 560  women to the ActWELL trial. Recruitment is now closed and 97% of women allocated to the intervention group have seen a Breast Cancer  Now Coach for their face to face intervention session. Retention at the 12 weeks follow up call is currently 96%. Last month the first people to complete the study were seen and now people are rolling in to see the research nurses for their final 12 month follow up visits. All participants will have finished the study by August 2019 and differences in body weight and physical activity will be closely scrutinised by the research teams.
BeWEL – From Research to Practice
In our last issue we reported that the Scottish Government are supporting a feasibility study to roll out the evidence based, effective BeWEL programme – a lifestyle and weight management intervention for people at increased risk of bowel cancer due to an adenoma detected through the national bowel screening programme. Bowel Cancer UK have now started training up the first batch of volunteers to take this work forward – once again a great response from volunteers with a commitment to reducing cancer risk in Scotland. Endoscopy staff, in Tayside and Paisley are also on board and a very enthusiastic team of NHS champions await clients from mid-October. It has been wonderful to hear the nursing staff embrace this opportunity to help guide folks
with lifestyle changes …. The only disappointment has been that more patients with weight problems (but who haven't had adenomas) can't be offered the programme. For more details about the project contact Ross Lamb ross.lamb@bowelcanceruk.org.uk.
Maggies' Weight Management Group for Endometrial Cancer
Lesley Howells, Centre Head, Maggie's Dundee
Maggie's Dundee have been working with the Gynaecological Surgery team at Ninewells Hospital to develop and run a weight management programme for overweight and obese women with endometrial cancer. It is estimated that over 70% of women with endometrial cancer are overweight or obese (1) which is associated with morbidity during and following surgery, a two‐fold increased risk of endometrial cancer mortality, and reduced quality of life (2, 3).
The design of the programme followed the Scottish Intercollegiate Guidelines Network evidence‐based recommendations on the management of obesity which state that overweight and obese individuals should be supported to lose weight with a multicomponent weight
management programme incorporating dietary change, physical activity and behavioural therapy. Maggie's included input in the design of the programme from psychologists (providing cognitive behavioural therapy,  self‐monitoring, motivation, attitudes and beliefs, action planning, problem solving, and relapse prevention strategies); a cancer nurse; dietitian (psychoeducation  about nutrition and eating healthily, with practical demonstrations of cooking healthy recipes); and an exercise specialist (seated exercises including aerobic exercise  and strength training). The programme (15 weeks, 2 weekly one hour sessions) is well attended with no drop‐outs. Feedback has been very  positive, rating the group support and style of facilitation highest. All in the first group lost some weight (1.8kg to 7.9kg), had reduced  depression and emotional/ uncontrolled eating, and increased cognitive restraint by the end of the programme.