Scottish fruits and vegetables – spring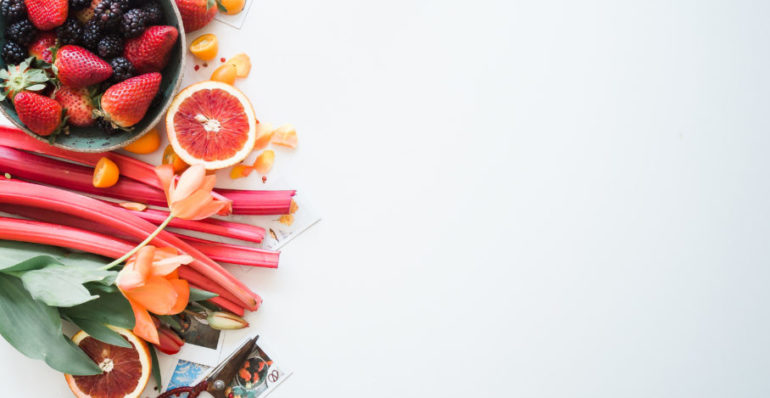 Spring is a great time for physical activity in the garden but also a great time for early vegetables and rhubarb! Two lowly tablespoons of cooked rhubarb provides one portion of our five a day.
Rhubarb also contains some interesting bioactive components. Everyone knows not to eat the rhubarb leaves (high content of oxalic acid) but there are other interesting ingredients too. In particular, the anti-neoplastic potentials of Rheum palmatum and emodin which, laboratory work indicate, are capable of influencing various stages of cancer development and progression. How the science actually translates into whether consumption of rhubarb is beneficial for cancer risk reduction we do not know. But the science suggests that having rhubarb in the diet is probably no bad thing and a reminder that eating a range of different fruits and vegetables is important because of the many different active ingredients with potentially beneficial actions.
Of course rhubarb demands added sugar in preparation at a time when we are all trying to cut our intakes. Rhubarb does have some naturally occurring sugar and you can tell how sweet a rhubarb will be by its stalk. The redder the stalk is, the sweeter the rhubarb will taste. However, no one is recommending a complete sugar ban and, where we add sugar to our foods better to use it in a way that makes foods with health properties more palatable. Certainly better to use it to sweeten rhubarb than to have sugar in sugary drinks, biscuits and cakes.
What to do with rhubarb
Try gingery rhubarb compote (add ground ginger, orange juice and chopped almonds)
Make stewed rhubarb the new banana – as a breakfast cereal topping
Add some chopped strawberries to cold stewed rhubarb
Bake rhubarb with orange juice, honey, cardamom, star anise, vanilla and a small piece of grated ginger for 15 mins at 200ºC
Make rhubarb and orange sauce (for serving with baked white fish). To 225g rhubarb add juice of 3 oranges orange juice, 2 tsp marmalade and cayenne pepper
For info on local cooking projects see Community Food and Health (Scotland).
Interested in Scottish fruit? Read about the orchard revival project.
---
This article was originally published in The SCPN Newsletter Volume 8, Issue 2. Read the digital newsletter below using Issuu, or feel free to download the PDF.
View the PDF