Scottish Fruits and Vegetables: Autumn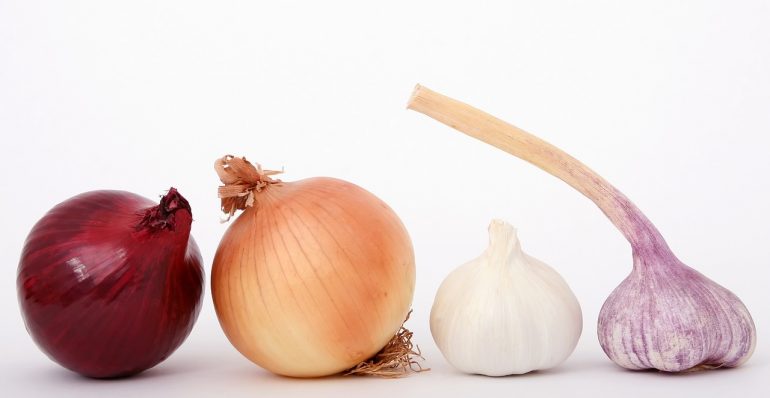 There is increasing evidence for the health benefits of a Mediterranean diet for cancer prevention and the subject of on-going research  and although it is tempting to try and identify the key components that account for protection it is probably the whole package (olive oil, fish, wholegrains, garlic and vegetables) that matters.
There is little doubt that vegetables make an important contribution to the healthy Mediterranean diet and much attention has focussed on the Allium genus which includes garlic, onion, shallots, leeks and chives – all of which are ready to eat in our Scottish autumn.
The cancers sites affected by allium intake from epidemiological evidence are largely gastrointestinal (notably stomach and colorectal cancer) and there is some lab based work which might explain mechanisms of action. One intervention study (using a high dose of garlic extract) reduced the risk of colorectal adenoma occurrence by 50%. These foods can provide some minerals (such as selenium) but there is more interest in bioactive constituents such as flavonoids and sulphur containing components (responsible for the characteristic smell) which are broken down to produce thiosulfinate compounds. In turn, these may help to prevent the formation of nitrosamine carcinogenesis. In addition, these compounds may decrease the level of heterocyclic amines arising during the meat cooking process- in fact a very good reason to add onions and garlic to meaty dishes!
What to do with garlic
Roast a head of garlic in tin foil for 45 mins at 1800C – add to salads, cottage cheese, mix in soup
Add raw garlic to stir –fries
Cut 4 peeled garlic bulbs and 8 shallots, add thyme, 4 bay leaves, chicken stock and sherry and bake
Use garlic mushrooms (in olive oil) as a filler for savoury wholemeal pancakes
Gently sauté 2 garlic cloves with ½ teaspoon of cumin seeds for 2 minutes. Add a pinch of honey, chilli flakes and lemon juice and toss over brussel sprouts. Roast for 20 mins.
Interested in Scottish food and growing? See more at http://www.nourishscotland.org/