Speedy Supper: Kimchi and Bean Quesadillas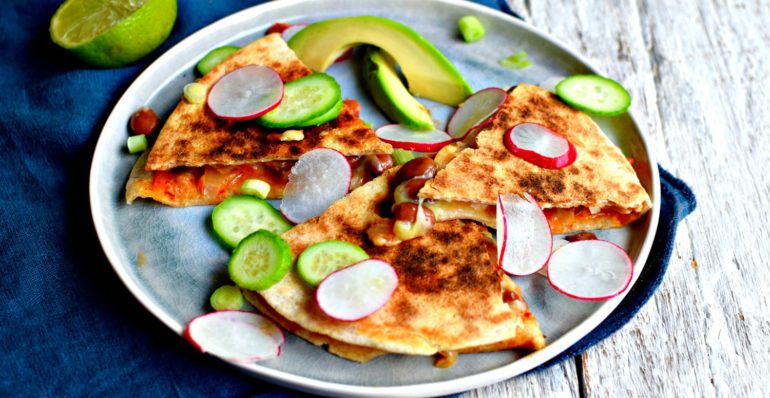 Kellie Anderson MSc, Maggies Cancer Caring Centres – kelliesfoodtoglow.com
The kimchi is really worth making or buying for speedy meals like this. We also like kimchi in bean soups, savoury pancakes, and grilled cheese, as well as with my own style of Korean (i.e. inauthentic) recipes. Kimchi is increasingly available at health food stores as well as of course Chinese and pan-Asian shops. If you can't find Kimchi, an alternative is …..sauerkraut!
Ingredients:
4 small wholemeal tortillas or flatbreads
200g cooked beans of choice
(I like borlotti or black beans)
4-5 spring onions, sliced
2 chopped tomatoes, deseeded if preferred
40g grated cheese, such as mature Cheddar
50-60g kimchi, lightly drained and coarsely chopped
Method:

Place a tortilla in a frying pan or skillet or a medium heat. Top with half of the beans, onions, chopped tomato, cheese and kimchi, leaving a small border. Slightly dampen the edge with water. Top with a second tortilla and press down lightly, sealing the edges if you can. Heat on both sides until golden in patches and the cheese is melted. Cut into quarters, plate up and cover while you make the second quesadilla. Serve with a green salad.
Note: if you aren't very hungry, just use one tortilla, folding over to a half moon shape to heat.
You can find Kellies original recipe and more like it at: https://kelliesfoodtoglow.com/
---
This article was originally published in The SCPN Newsletter Volume 7, Issue 4. Read the digital newsletter below using Issuu, or feel free to download the PDF.
View the PDF