Roll on Traffic Light Labelling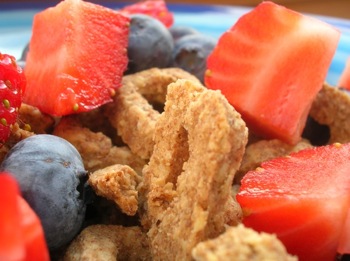 Breakfast is often described as the most important meal of the day. Many of us reach for that breakfast cereal which is aggressively marketed as a healthy option but do we really know what is in it? Which? has campaigned for government and food industry action to help us choose what foods are better for us. In their report 'What's in your bowl? The most popular breakfast cereals compared' they highlight the confusion with some retailers putting traffic light labelling on their packaging while others use a percentage guideline daily amount (GDA) system without colour-coding nutrient levels. This all serves to confuse us consumers and make like for like comparisons between brands difficult.
Their research found that salt levels had improved across the board since their last evaluation in 2009 with 84% meeting salt targets which had been set for the end of 2012. Not all good news however with a 30g serving of one own brand cereal containing more salt than a large bag of ready salted crisps!
Sugar levels were found to be high in 32 of the 50 cereal brands examined, especially those which were marketed at children and surprisingly some which were specifically marketed as 'healthy'. Only one cereal could be given a green traffic light for low levels of fat, sugar and salt (although the manufacturer do not provide traffic light colour coding to show this). Eight of the 50 cereals had no front-of-pack nutrition labelling and only 14 included traffic light colour-coding to show nutrient levels (all supermarket own-brands). Nutrition information per serving was also given inconsistently making it difficult to compare products.
There are alternatives to high salt/sugar processed cereals…Award winning Chef Tony Heath from The Apron Stage, Stanley has provided us with a spicy start for the day which will last all week:
Poached Fruit mix
4 – 6 dessert apples
1 cooking apple
4 – 6 slightly under ripe plums
2 firm pears may also be added
Ground cinnamon and clove to taste, or use whole as an alternative
Sugar to taste (if you really need it!!)
Water
Peel, quarter and core the apples and pears, chop into smaller pieces approx. ½ inch size.
Cut the plums in half, remove the stones and chop the halved plums about the same size as the apple. Place all the chopped fruit into a wide shallow pan, just cover with cold water, sprinkle over the sugar and the spices, approx. 1/4tsp of cinnamon and slightly less of clove.
Place the pan on the stove with lid on and on a low heat slowly bring the fruit to a simmer, remove the lid and allow the contents to bubble away for perhaps 5 – 7 minutes by which time the cooking apple will have broken down but the dessert apples and plums will have just softened up, remove from the heat and cool as quickly as possible, place in to a lidded container and store in the fridge.
Add the poached fruit to your favourite wholegrain, unsweetened cereal and mix with fresh fruit and natural yoghurt for a good start to your healthy living day.
(Editor's note… spicy poached fruit is also a great topping for winter porridge)
---
This article was originally published in the SCPN Newsletter Volume 4, Issue 1.
Read the full issue here: