Tropical Matcha Yogurt Breakfast Bowl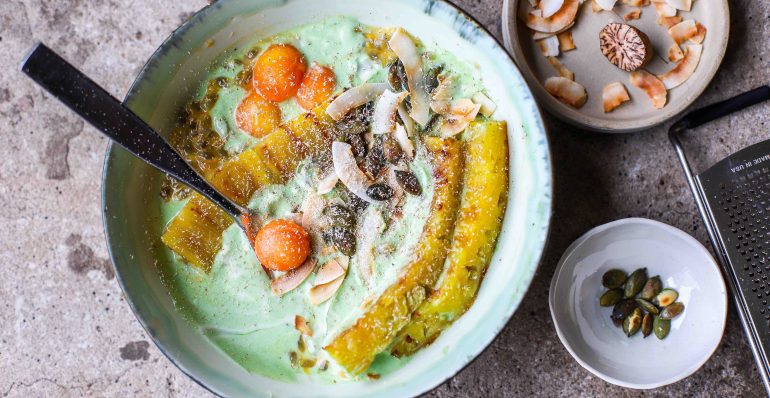 Kellie Anderson, MSc – https://kelliesfoodtoglow.com/
This energising Tropical Matcha Breakfast Bowl is loaded with juicy fruit, toasted seeds and coconut for a refreshing and healthy way to start your day. Although the pineapple is grilled in this recipe, feel free to keep it raw.
Serves 1
• 200 g unsweetened yogurt Greek for highest protein
• 1 tsp organic matcha tea
• 1 ripe passion fruit
• 1/4 g small ripe pineapple skin, core and "eyes" removed
• 1/2 medium ripe papaya seeds removed
• 10 g unsweetened coconut flakes not desiccated
• 15 g raw pumpkin seeds
• 1/4 tsp freshly grated nutmeg
Method
1. Mix the yogurt and matcha tea together in a serving bowl. Set aside.
2. Heat a skillet or ribbed griddle pan over a medium heat and add the pumpkin seeds and coconut flakes to it. When you hear a few of the seeds pop – and possibly jump out of the pan, tip the seeds and coconut flakes to a plate to cool.
3. Slice the pineapple into planks and lay in the hot griddle pan/skillet. Heat, turning once, until you have nice grill marks or darkened patches. Remove from the heat to cool a bit, and then add them to the yogurt.
4. Take the passion fruit and cut it in half. Use a small spoon to scoop out the seeds and any loose stringy bits. Add these juicy seeds to the yogurt bowl.
5. Use a melon baller or small spoon to scoop soft, cool balls or curls of the papaya; add these to the bowl.
6. Sprinkle over the nutmeg, cooled seeds and coconut flakes. Enjoy!