Walking the Walk – after breast cancer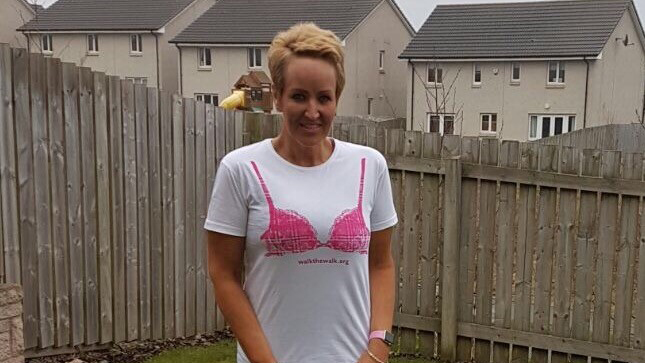 In February 2016, 43 year old Di Winstone from Porthlethen, in Aberdeenshire was diagnosed with breast cancer. She underwent chemotherapy, a double mastectomy, and finally radiotherapy, finishing her treatment at the end of October.
Incredibly, just six weeks later, Di signed up for the 26.2 mile Full Moon challenge at The MoonWalk Scotland, the iconic fundraising event organised by grant-making breast cancer charity Walk the Walk.
At Midnight on Saturday 10th June, Di will join thousands of women and men wearing brightly decorated bras to Power Walk distances from 6 to 54 miles through the streets of Edinburgh from Holyrood Park.
Di says: "A solicitor at work mentioned The MoonWalk, having done it before, and I thought I am going to do that! I wanted to raise money for breast cancer charities, but also give myself something positive to focus on, challenging myself beyond anything I have ever done physically before. My message for someone else thinking about taking on The MoonWalk – if I can walk 26.2 miles, having just finished treatment, having only ever participated in one 5km fundraising event, so can you!"
To join Di and sign up for The MoonWalk Scotland 2017, go to www.walkthewalk.org.

---
This article was originally published in The SCPN Newsletter Volume 8, Issue 1. Read the digital newsletter below using Issuu, or feel free to download the PDF.
View the PDF