Chard, Orzo & Chickpea Broth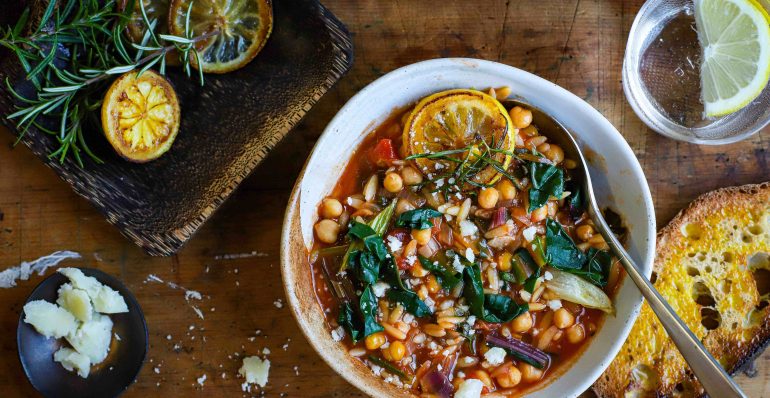 14
Jan 20
Ingredients
2 tbsp extra virgin olive oil
1 onion, preferably red, finely chopped
4-5 fat cloves garlic, smashed and minced
Pinch of mixed herbs or chopped rosemary
1 heaped tbsp sun-dried tomato paste or red pesto
1 jar or carton of tomatoes (400g ish/15 oz)
700 ml hot light vegetable stock or broth (3 cups)
200g or so of chard or young kale, chopped (about 10 big leaves)
200g (1 cup) cooked chickpeas or good palmful of uncooked red lentils
70g (1/2 cup) whole-grain or white orzo; or other tiny pasta
8 smoked tomatoes in oil (I buy Belazu brand ) - optional; snipped up
1 lemon, 1/2 of it sliced
Sprig fresh rosemary for each serving to fry in olive oil as tasty garnish
Method
Sauté the onion and garlic on a low heat until soft, stirring occasionally to prevent burning or sticking - about 8 minutes.
Add the mixed herbs, tomato paste and let sizzle for 30 seconds before adding the jar of tomatoes and the stock.
 Bring to the boil and add the cooked chickpeas (or lentils) and the orzo. Let it come up to a steady simmer and cook for 15 minutes.
Add the chopped chard and let it melt into the broth. Then add the smoked tomatoes. Squeeze in half of the lemon, and adjust the seasoning if needed for your taste buds. Meanwhile, briefly fry the lemon slices and rosemary, if you like, for garnish. Serves 4 hearty bowls!