Kale, Sweet Potato and Popped Chickpeas with Hummus Sauce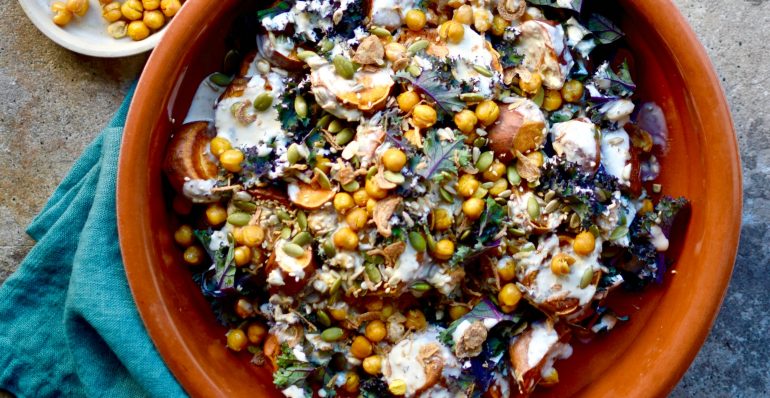 19
Oct 17
Creamy and flavoursome - this dish is the perfect blend between summer salads, and winter warmers. We love the fabulous mix of textures and flavours. Recipe and photo by Kellie Anderson, MSc - get more recipes like this from kelliesfoodtoglow.com
Ingredients
2 large sweet potatoes, scrubbed
2 tbsp olive oil, divided use (or 1 tbsp regular olive oil and 1 tbsp garlic olive oil)
150g cooked chickpeas, rinsed and patted dry
1 tsp ground turmeric
1/2 tsp freshly ground black pepper
60g or so young kale leaves, torn (amount is really up to you)
100g hummus
1/2 juicy lemon
40g toasted seeds of choice – I like pumpkin, sunflower and sesame
Optional: crispy dried onions/shallots
Method
Preheat the oven to 200C fan/ 220C/450F. Slice the potatoes into 2.5 cm rounds, or if big sweet potatoes, large dice. Coat the potatoes with 1 tablespoon of the oil and roast on a tray in the oven for about 15-20 minutes – until soft and just starting to colour.
Meanwhile, toss the chickpeas with about half of the remaining oil and spread on a baking tray, dust with the turmeric and black pepper. Place in the oven for 15 minutes with the potatoes, or until they begin to burst and a few jump off the tray.
Rub the remaining oil onto the kale and massage until the kale has shrunken a little and softened.
For the dressing, mix the lemon juice with the hummus, loosening it a bit with some water too. Add any spices that you fancy, such as smoked paprika.
When the sweet potatoes and chickpeas are ready, let them cool a few minutes before tossing together the potatoes and kale. Decant these veggies into a nice serving dish, drizzle with the dressing, top with chickpeas and sprinkle over the seeds and crispy onions, if using. Eat at room temperature with a green salad.

Find Similar Recipes:
Salad

Find Recipes With The Same Ingredients:
Chickpeas
|
Hummus
|
Kale
|
Sweet Potatoes