North African Soup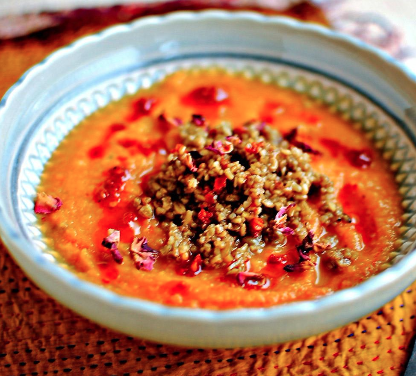 15
Jan 18
Ingredients
700g Squash of choice - (peeled, deseeded and chopped weight)
350g Celeriac, peeled and chopped
3 Carrots, chopped
1 Onion, peeled and chopped
Olive Oil
3 cloves Garlic, peeled and finely chopped
800ml low salt vegetable stock or bouillon
½ Lemon, juiced
2 tsp Harissa (or ¼ tsp Smoked Paprika)
Optional
Method
Preheat the oven to 180°C (350°F).
Toss the squash, celeriac, carrot and onion in the oil and spread over two baking sheets.
Bake for about 20 minutes, stirring once half way through.
After 20 minutes add the garlic and return to the oven for another 10 minutes.
Optional: While the vegetables are roasting, heat 1 tsp of oil in a small saucepan and add the
freekeh. Let it get a little toasty then add the ras-al-hanout, stir, and cover with about 250ml water.
Bring to the boil, cover and simmer for about eight minutes, or until the freekeh is cooked but still has some bite to it. Drain and set aside.
Bring the vegetable stock to the boil. Add the vegetables to a blender along with one-third of the hot stock. Remove the stopper on your blender and cover with a tea towel. Blend the soup until smooth, then pour in the remaining stock and 1 tsp of harissa, and whiz a bit more gently, just to blend.
Taste and add the remaining harissa and lemon juice if you like.
Serve the soup, adding a heaped spoon of freekeh and topping with a drizzle of harissa.

Find Similar Recipes:
Soup