Roasted Cauliflower and Almond Soup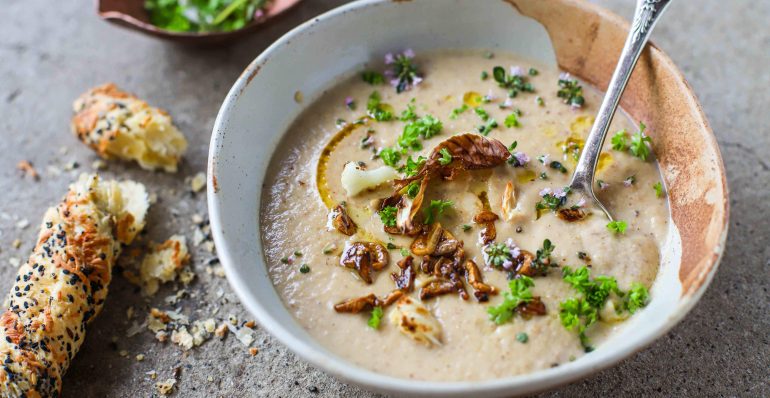 07
Jan 20
Ingredients
2 tbsp extra virgin olive oil
1 medium whole cauliflower cut into pieces, including stems and leaves
100 g whole raw almonds skin on preferred
1 onion chopped
5 cloves garlic minced
3 bay leaves
1/2 rounded tsp grated nutmeg
1 litre vegetable stock or broth
1/2 tsp white pepper
2 tsp Dijon mustard more to taste
2 tbsp nutritional yeast optional; more to taste
Optional soup toppings
Fried garlic
Lemon thyme leaves and flowers
Bits of roasted cauliflower and almonds
Extra virgin olive oil or smoked oil
Method
Preheat your oven to 180 C fan/200 C/400 F. Line a large baking tray with gently crumpled foil. You will be oiling the cauliflower and onions so this step might not be necessary, depending on your baking tray.
Toss the cauliflower pieces and chopped onion in all but one teaspoon of the oil, and lay in an even layer on your baking tray(s). Pop it in the oven to roast for 25 minutes. At the same time, put the almonds on another tray and roast them for eight minutes in the lowest/coolest part of your oven. Save back a few toasted almonds to cut up for garnish.
When the cauliflower and onions are halfway through their roasting, heat the remaining oil in a large, lidded saucepan over a low-medium flame. Add the garlic, and sauté for two minutes or so before adding the roasted almonds, bay leaves, nutmeg, white pepper and vegetable stock; bring to a fast simmer. Add the cauliflower, saving back some small bits for garnish.
Turn the soup down to simmer and place the lid on the pot. Simmer for 20 minutes. Take off the heat. Stir in the Dijon mustard and nutritional yeast, if using. Remove the bay leaves before the next step.
Use an immersion blender (hand-held) to blitz the soup. Or, transfer in batches to a food processor or blender to blend until creamy-smooth. Taste for seasoning, adjusting as needed. Serve warm rather than hot with the suggested garnishes of fried garlic, bits of cauliflower and nuts and some lemon thyme. Or drizzle with a swirl of yogurt.

Find Similar Recipes:
Soup

Find Recipes With The Same Ingredients:
Almond
|
cauliflower
|
Dijon Mustard
|
Garlic
|
nutmeg