Summer Sunshine Ice Lollies – Pineapple & Strawberry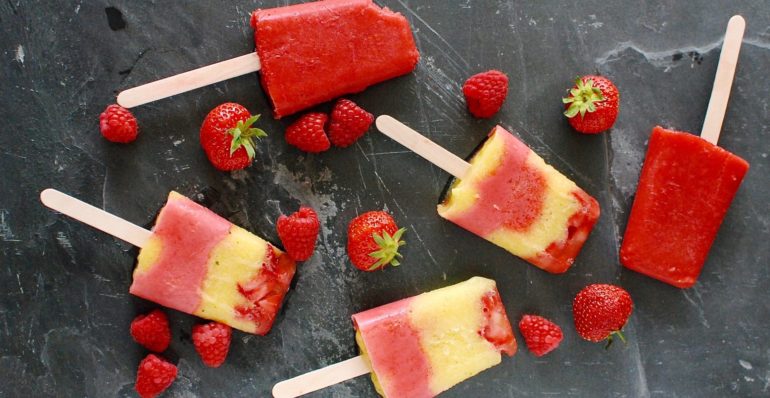 26
Aug 17
Perfect way to use up some fresh fruit, and a healthier alternative to sugary ice cream! Takes just 15 minutes to prepare, but remember to factor in freezing time!
Ingredients
½ Medium ripe pineapple, trimmed, cored and diced into large chunks
¼ tsp Lime zest, finely grated
½ Small lime, juiced
3 tbsp (Low fat) greek yogurt
1 cup Ripe strawberries, chopped – (including 2 tbsp of finely chopped strawberries)
Method
Add the pineapple, lime zest, lime juice and yogurt to a blender or food processor and process until mostly smooth. Scrape the mixture into a jug and pour the mixture into lollie moulds.
Rinse out the blender/food processor, then add all but the 2 tbsp finely chopped strawberries and process to a crimson pulp. Scrape the strawberries into another jug.
Line up your ice lolly moulds or cups. Add a little of the finely chopped strawberries to the moulds, top with some of the pineapple, followed by some of the strawberry, and then finally a little more of the pineapple.
Top with the ice lolly stick covers (they usually have the stick integrated) or – as I did – push in the wooden sticks. The mixture is firm enough not to need any foil, cling film or card to steady it, but you may wish to use one of these. If so, I would top with some cling film and secure it with a rubber band then make a small nick where you want your stick to go and then follow this with the lolly stick.
Freeze for two hours before dipping the moulds/cups in warm water and loosening.

Find Similar Recipes:
Dessert

Find Recipes With The Same Ingredients:
Lime
|
Pineapple
|
Strawberry
|
Yoghurt