Watermelon and Tomato Breakfast Salad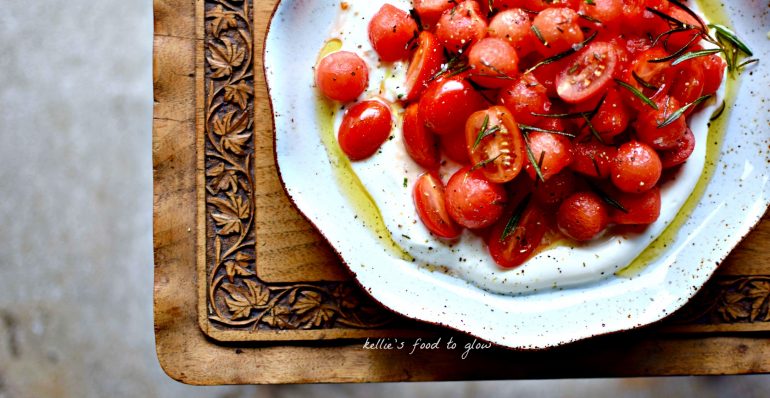 27
Jul 17
Sweet and savoury but unexpectedly right - this unusual breakfast dish is worth scrubbing up when you fancy something different - and it's healthy too! Recipe and photo by Kellie Anderson, MSc - get more recipes like this from kelliesfoodtoglow.com.
Ingredients
1tbsp An ingredient, chopped
2tbsp olive oil
2 x 10cm sprigs fresh rosemary
250g-285g best Greek yogurt*
1tbsp best honey (we like acacia)
160-200g best cherry tomatoes, washed and halved
160-200g ripe seedless watermelon, rind removed and flesh cubed (or scooped with a small melon baller)
1tbsp fresh lemon juice
Flaky salt, optional
*vegans of course use a non-dairy yogurt, but coconut won't really suit in this instance.
Method
Heat the oil in a small saucepan over a medium flame and add the rosemary sprigs. Sizzle gently until lightly browned (about 30 seconds) – do not take your eye off of the pan. Remove the sprigs to a paper towel and save the oil to use in a sec.
Stir the honey and yogurt together in a small bowl; spread it over a wide, shallow bowl or divide between individual bowls.
Combine the watermelon, tomatoes and lemon juice in a bowl and add to the yogurt. Drizzle with the rosemary oil, crumble over rosemary and sprinkle over with a little salt, if desired. Serve.

Find Similar Recipes:
Salad

Find Recipes With The Same Ingredients:
Honey
|
Lemon
|
Olive Oil
|
Rosemary
|
Tomato
|
Watermelon
|
Yoghurt