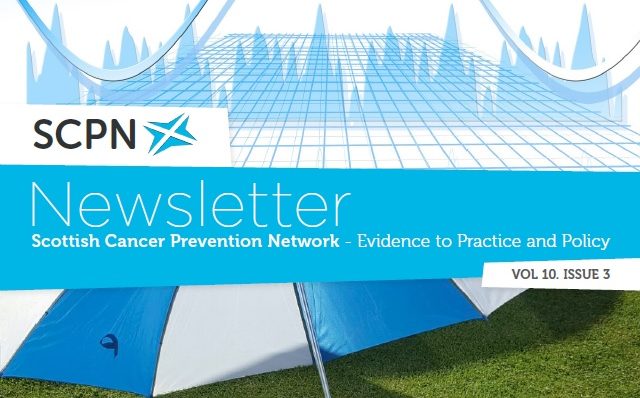 Welcome to summer and many warm, long light days to work, rest and play. In this issue lots of our articles focus on sunshine joys. The pleasures of e-cycling, walking and games to play at the staff picnic outing are reminders of the fun side of healthy living. Our art and design prize winner depicts the joys of cartwheeling – maybe not so easy for some of us, but a wonderful reminder of the sheer pleasure of movement. Our picnic food focus presents some great options to pastries and cake for outside gatherings. Enjoying the sunshine can also help to top up our vitamin D levels for great bone health.
Within the pleasure of summertime play there is also the need to incorporate care over UV exposure. Skin cancers account for over a quarter of all cancers diagnosed in Scotland https://www.cancerpreventionscotland.org.uk/newsletter/spotlight-on-scottish-non-melanoma-skin-cancer/ and have increased by 30% in the last decade. Our Irish cousins have recently released their National Skin Cancer Prevention Plan https://health.gov.ie/blog/publications/national-skin-cancer-prevention-plan-2019-2022/ drawing on evidence based programmes from Australasia which have demonstrated reductions in skin cancer incidence and deaths. Key actions are simple… slip on a top, slop on suncream, slap on a hat, seek shelter, slide on the sunspecs. Many of use apps to look at the weather for the day but taking note of the UV index to make sure we are prepared with our suns shade is equally important.
Increasingly, people are expressing concern over the environmental effects of sun creams. Before a trip to NZ last year we searched out all sorts of possible creams and ended up agreeing that actually shade, and wide brimmed hats should be the starting point for sun care. Being Scottish we just bought a wee tube of sun cream. All too easy to think that sun lotions are the only measure to take when we cartwheel off into the midday heat. However, Terry Slevin (ex Cancer Council, Australia) our expert on this topic provides us with a very clear and balanced account of strategic approaches to sun care and if you don't read the whole article – then here is the key guide on sun screen . Use more sun cream than most people think is necessary, (1 tea spoon for each limb, 1 for face and neck, 1 for torso front and one for the back) is a good start. Reapply every 2 hours or if swimming, towelling off of being physically active on skin not covered with clothing. We are at home this summer but have now bought a big tub of sun lotion – ageing skins are just too sensitive to be canny about.