Apricot & Citrus Raw Bars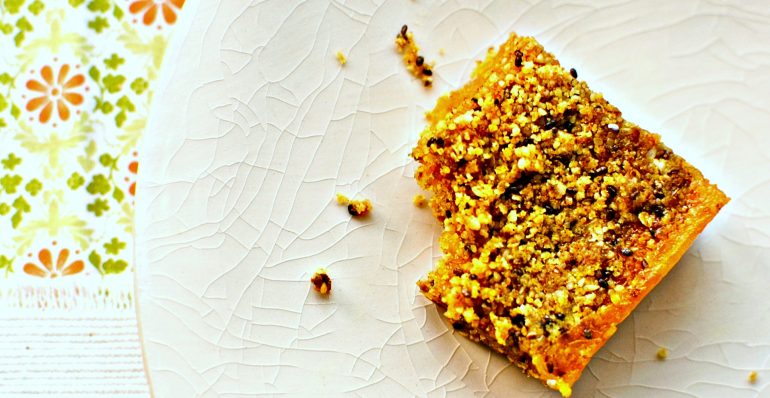 27
Jul 17
These bars are delicious raw as our recipe here calls for or can be topped with melted dark chocolate to create a healthy jaffa cake alternative. You will need a food processor or mini chop-type blender and a 9" x 9" pan lined with a long, overhanging length of cling film/food wrap for this recipe. Recipe and photo by Kellie Anderson, MSc - get more recipes like this from kelliesfoodtoglow.com.
Ingredients
75g moist dates, stoned and roughly chopped
50g oats
215g raw cashews, soaked for 15 minutes in hot water and drained
1tsp ground cinnamon
1tsp ground turmeric
A grind or two of black pepper
200g dried, un-sulphured apricots
One clementine/satsuma or half a medium orange, juiced and finely zested
½tsp vanilla extract
Method
Blend together the dates, oats, cashews, cinnamon, turmeric and salt until clumping together and sticky.
Scrape the mixture out of the food processor and press two-thirds into the cling film-lined pan or dish. Put the remaining mixture aside.
Wipe out or clean the food processor bowl and blitz the remaining ingredients. Spread this mixture evenly over the nutty base.
Dot over the remaining nutty mixture and press down evenly. Press down firmly, as you want the whole thing to stay together as cut bars.
Pop in the freezer for half an hour; remove the cling film and cut into bars.

Find Recipes With The Same Ingredients:
Apricot
|
Black Pepper
|
Cashews
|
Cinnamon
|
Clementine
|
Dates
|
Oats
|
Orange
|
Satsuma
|
Turmeric
|
Vanilla